The DivaCup Review
This shop has been compensated by Collective Bias, Inc. and its advertiser. All opinions are mine alone. #PeriodConfidence #TryTheDivaCup #CollectiveBias
Hello & Happy Monday!
As a woman, our cycles are an integral part of our very existence. In the beginning it's hard to navigate, you're never prepared, the experience is just all around exhausting. As you age though, we're always prepared, and probably have multiple apps to tell us when the exact day is coming.
Technology has come a long way and probably saved a lot of pants in the process! lol
While I've never discussed these topics on Eat Drink Shrink. I was actually somewhat excited as I feel this industry needs some detoxifying. Many cotton based feminine products are harvested using chemicals, which in essence are exposed to your body. No matter which way you twist and turn that information, I completely understand how as a generation we are gravitating towards organic, or items such as The DivaCup!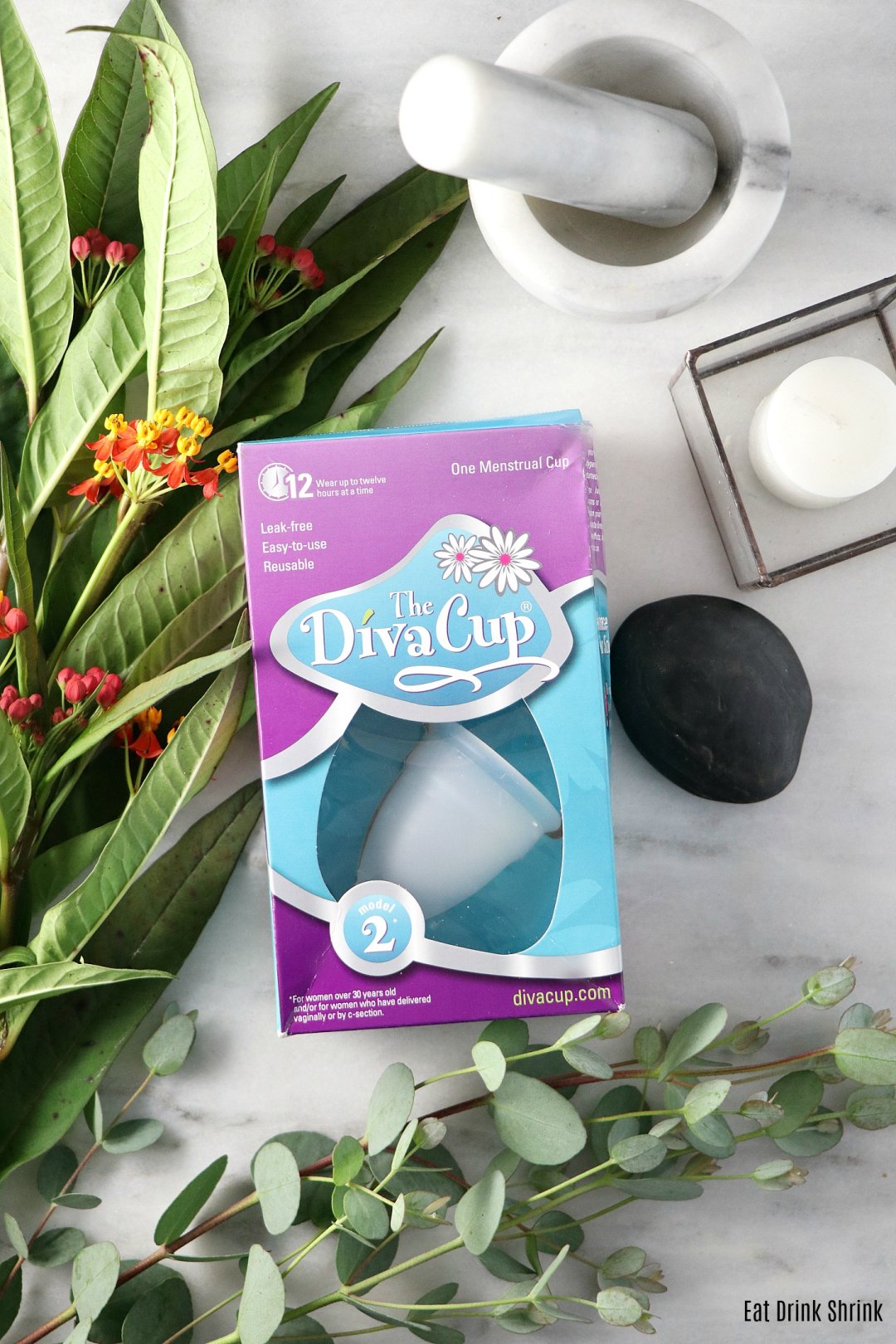 Interested in trying The DivaCup?
Hover over the photo to click through to purchase online!
What is The DivaCup?!
The DivaCup is a reusable menstrual cup made from healthcare-grade silicone. It's used just like the standard tampon, however you can wear The DivaCup for up to 12 hours and it's reusable, which mitigates waste and conserves money. Sounds unsanitary, but the company also produces a DivaWash to keep it clean. Simply store it in a clean place, and it's ready to be used again.
Although I discovered this company around it's inception, I've read that menstrual cups have been utilized dating as far back to 1930's, which was mind blowing. However, if you take a step back and look at the business aspect it makes perfect sense. Other alternative products require you to continuously buy them thus it's a more profitable business.
They recommend you purchase a new DivaCup yearly. The product itself is around $40. While this may seem steep, it's $40/year, rather than an estimate $150/year that you could be spending on other feminine products.
While feminine products are now coming in biodegradable packages and can be comprised of organic cotton (hard to find sometimes), they still increase the level of waste with the product/packaging.
So with all the benefits to the environment and your wallet, why are we hesitant to try this product?
There is a learning curve when you switch to a menstrual cup, you have to familiarize yourself with inserting it correctly, and the method that works may depend a lot on your body. However, everything is trial and error when you're learning something new. The benefits are vast from preserving the environment, conserving money, being reusable, free of chemicals, may be more comfortable, and lasts longer than your typical feminine product (12hrs). That being said, there is not harm in trying something that may be a better choice for you altogether!.
If you've tried this product I'd love to read about your experience in the comments below!
The Simple Process:
Insert and make sure it's secure

Carry on with your life for roughly 12 hours

Remove, empty

Rinse and wash with DivaWash, the special DivaCup soap

Repeat steps 1 and 2

When your cycle comes to a close, wash and store your DivaCup in the provided bag.
I recommend reading the User Guide before trying the cup and to consult with their healthcare provider if they have any questions with regards to their vaginal or gynecological health. Their Consumer Care Team is available to answer questions and concerns. They can be reached at support@divacup.com, 1-866-44-3482 or you can visit their social media networks. This team is really the best team to contact and are super helpful to customers. They are on the phone with women, for insertion, removal etc.

Locate The DivaCup in a store near you here
Follow them on social media:
To maintain the Zen during your cycle I find that the more I balance my bloating and stress, the easier my cycles are. Below are a list of approachable strategies.
1. Moment of meditation:
Take a moment during the middle of the day meditate for 15mins. Remove outside light as it tends to increase our energy making it hard to relax and clear the mind.
2. Minimize caffeine intake:
Caffeine can make it hard for you to relax and also promotes dehydration, which can lead to further bloating and muscle pain. I highly recommend decaffeinate tea, water, or green juice.
3. Reduce consumption of high fiber foods:
Consumption of high fiber foods may keep you full, but they add to the bloating and put more pressure on your colon leading to even more bowel movements. I would opt for high protein options such as nuts.
4. Drink more water
If you're not taking in enough fluids, dehydration happens, leading to further bloating.
5. Room temperature
Believe it or not, a cold room makes it harder to relax. if you're trying to decompress I recommend a temperature of 69 degrees or warmer. Warm temperatures enhance relaxation and mitigate stress.
6. Magnesium
Magnesium can come in a supplemental tablet or powdered form and has the ability to lower blood pressure, reduce stress levels, and even enhance sleep.
7. Take a bath:
As pedestrian as it sounds, it works! Hot water enables you do destress and the heat enables you to sweat off bloating.
8. Limit Salty Foods
This one is a no brainer as it makes us hold onto water. When we consume sodium, it causes water to leave the body, thus causes dehydration, and the release of a hormone (ADH), which makes us hold onto water.
9. Stay Active:
In my yoga training it was always emphasized that we should omit all yoga during the time of our cycle. I'm not sure what the rational was. In short, it wasn't encouraged to go going against the "natural flow" of things if that makes sense. Inversions, such as headstands were always not recommended. While I'm not one to take on a yoga class in the beginning of my cycle, I do feel that restorative yoga is a great solution! You get to move, unwind, meditate, find ways to relax that you can incorporate into your every day routine, and exercise reduces bloating! Plus The DivaCup works even when exercising and is full proof with 12 hours of coverage!
Below is one of my personal favorites!
Corpse Pose Variation
Many experience difficulty finding their zen while in corpse pose. For some its due to lower back injuries or simply having stiff joints. I have found that variations assist with falling into a deeper relaxation. Today after years of practice I like to think that I have a black belt in savasana, and now you will too!
Directions:
Fold a blanket into a cylinder or use a round bolster.

Place the bolster underneath your knees and if you want to get super fancy raise your heels with another folded blanket under.

Place a rolled up yoga mat under your lower back to feel the full release.

Place a folded blanket over your lap and if you need the extra support one under your neck and cover your eyes.
Directions:
Place your lower legs on the seat of a folding chair. (Your lower leg should lie parallel to the floor, if heels are lifted off of the chair, raise your lower back with folded blankets)

Place a folded blanket or roll your yoga matt under your neck/

Place a folded blanket over your abdomen. This will aid in softening the abdomen and encouraging deeper breathing.