DIY Holiday Decor
Disclosure: This shop has been compensated by Collective Bias, Inc. and its advertiser. All opinions are mine alone. #MerrySpritzmas #CollectiveBias
Hello & Happy Monday!!
With the holiday season upon us, we are always hosting gatherings or attending or C, all of the above. Whether I'm hosting or not, I love to decorate our home to cater to our guests and be a welcoming environment. After living in the NYC in a small apartment, now that we have ample space and have found new roots, I love to decorate.
My mother was very creative and my parents owned an antique shop growing up. So needless to say, I have an innate skill to translate my favorite color schemes and designs to create the perfect home setting.
FYI: I have a huge crush on all things cream and gray. So much that I didn't even try and create a flow to our apartment, everything just organically went together over time lol.
Since I cook full time I'm all about smells. During the holidays that typically means the aroma of baked goods, but not always. That being said, I like to use an air purifier and also create DIY fragrances to mitigate unpleasant smells.
One of my fave strategies is creating glass candles that are filled with all items that resonate with the holidays such as pine, fresh orange, cinnamon, and cranberries. Not only does it add a gorgeous accent to any room, it creates a pleasant smell, cost pennies to make, and can be used as a candle holder.
Other items that are perf for mitigating smells are the new Poo~Pourri products. Even typing the name of that product makes me laugh, but they come in an array of fragrances, are packaged in small discreet bottles, and are guaranteed to make your guests smile and ask you about the product!
So How does it work?
It's pretty simple, really! When spritzed into the toilet bowl before-you-go, Poo~Pourri's pureblend of NATURAL ESSENTIAL OILS creates a film on the surface of the water. The protective barrier traps odor under the surface, before it ever begins! All you'll smell is a refreshing bouquet of NATURAL ESSENTIAL OILS. Flush yeah!
The festive Poo~Pourri Secret Santa is a gorgeous blend of cinnamon, vanilla and citrus natural essential oils that make it my personal favorite. It's a Spritzmas miracle! lol Poo~Pourri transforms your bathroom experience (and those who come in after you) by stopping bathroom odor before it begins…seriously!
Buy it because it's funny, use it because it works.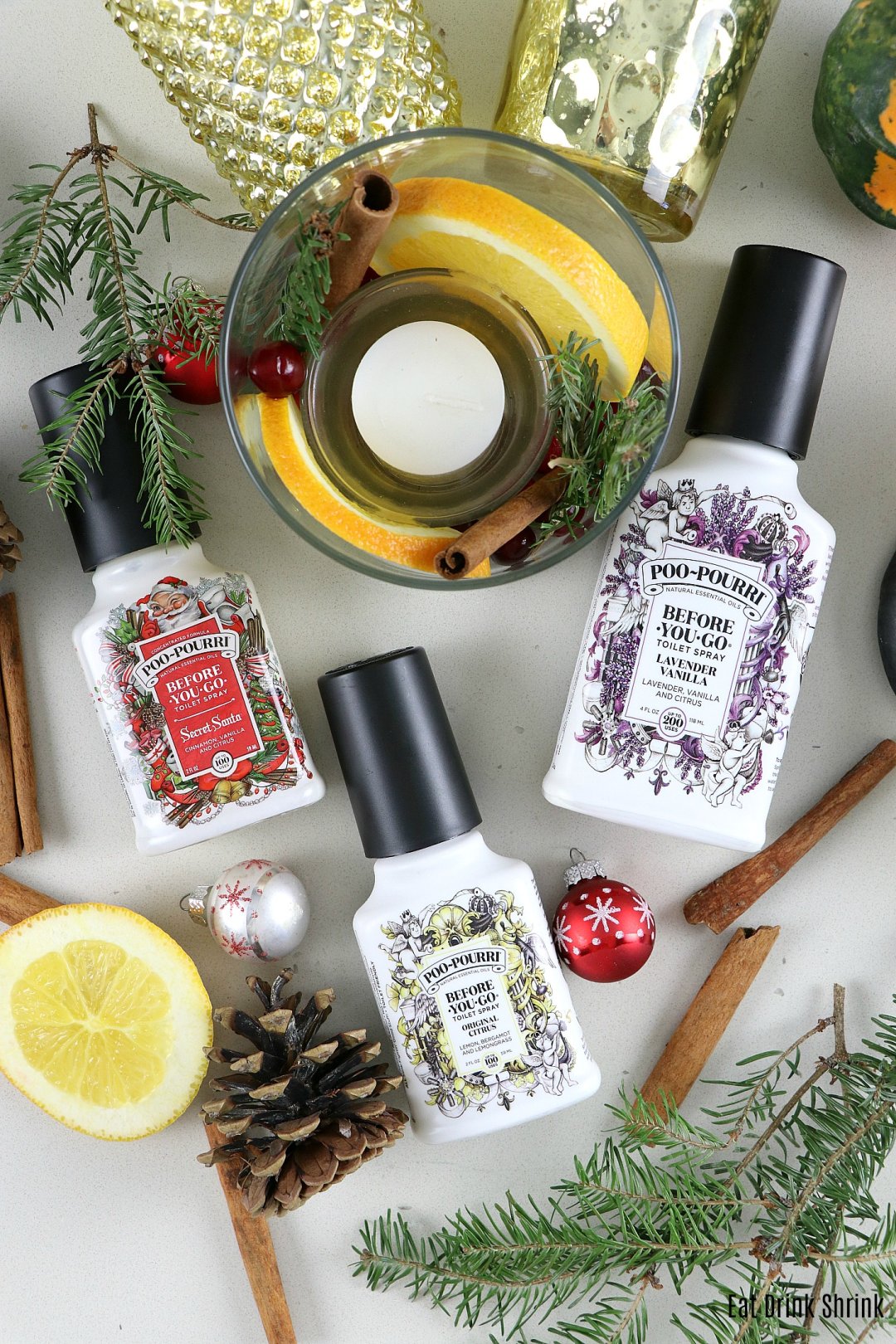 Looking to add this product to your holiday bathroom decor or even give as a holiday gag gift?! Hover over the shoppable image and click to visit Poo~Pourri.com and get my exclusive 20% off discount code here!
DIY Holiday Candle Tutorial
Supplies: Mini size holiday objects, cranberries, orange slices, cinnamon
Place them in a glass container with a smaller glass candle holder, placing the items around the candle for aesthetic appeal.
And boom: You have a festive holiday candle & aroma in your home!