Learn About Omega 3's
This shop has been compensated by Collective Bias, Inc. and its advertiser. All opinions are mine alone.#NatureMadeHeartHealth #CollectiveBias
Hello & Happy Monday!
As a young adult, I rarely took supplements, but opted for foods that contained the nutrients I needed. However, as I've aged, began planning for a family, and my life has become filled with cooking I've arrived at a place where I embrace supplements. Fish oils one of those nutrients we all hear about. While I stick to a multivitamin, many opt for an additional fish oil supplement. Fish oil is packed with omega 3's that are good for heart health and brain development and can be derived from chia seeds, walnuts, and fish. While supplemental form is fish based, the negative aspect is that it can be adulterated with mercury, give you fish like breath and or make your skin feel saturate with oil. That being said, there is mixed feelings about the topic and it can be hard to navigate which brand to purchase.
So why Nature Made?
Throughout adolescence my mother ran a holistic health food store that was filled to the brim with supplements. Back in that time there was minimal information provided for supplementing and only but a handful of brands. Nature Made is one of those companies that continues to thrive and offer an array of options. Nature Made® is said to be the #1 Pharmacist recommended vitamin and supplement brand*
They recently creating Fish Oil "Burpless" Omega-3 options. Nature Made's Burp-Less formula Fish Oil is specially coated to help prevent a fishy odor and aftertaste and ultimately mitigate bad breath. The new Nature Made® Fish Oil is also purified to remove mercury utilizing a state-of-the-art purification processes to remove PCBs, dioxins and furans, and mercury to ensure purity levels below 0.09 ppm, 2 ppt WHO TEQs, and 0.1 ppm respectively. The fish oil supply only comes from wild caught ocean fish, not farm raised fish There is no color added or artificial flavors, no yeast or starch, and are gluten free.
Nature Made has also integrated new packaging to feature the amounts of EPA/DHA found exclusively at Walmart. Now at Walmart, you can find a selection of Nature Made Omega-3 supplements that clearly call out the amount of EPA & DHA Omega-3s on the front of the label. EPA + DHA Omega-3s are the active ingredients in fish oil that provide heart healthy benefits.† With this change in labels, Walmart is trying to make it easier for shoppers to navigate the "fish oil" segment and to ensure their shoppers are confident they found the right omega-3 supplement.
Follow Nature Made on social media: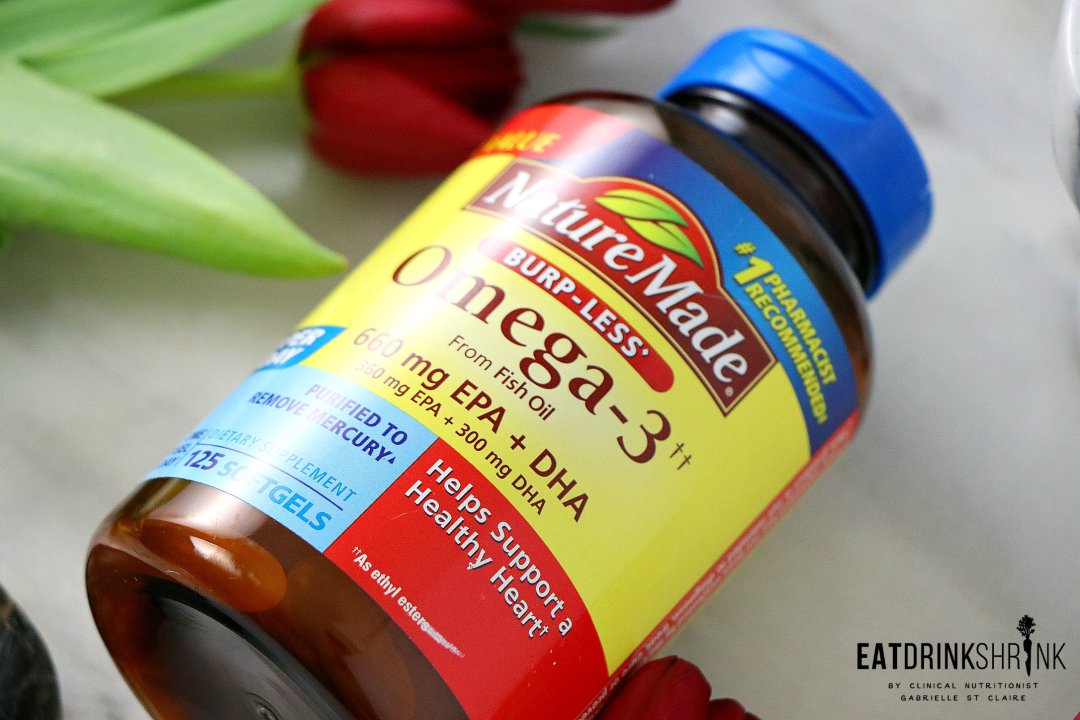 Difference between fish oil and omega-3s? Fish oil is a great source of naturally occurring omega-3 fatty acids. Omega-3 fatty acids are healthy fats that should be included in most people's diet. The two primary omega-3 fatty acids found in fish oil are EPA and DHA. The omega-3s naturally found in fish oil (EPA & DHA) have been studied extensively for their important roles in supporting heart health.1-2,†
1 Delgado-Lista J, et al. Long-chain omega-3 fatty acids and cardiovascular disease: a systematic review. British J of Nutr. 2012;107:S201-S203.

2 Mozaffarian D, Wu JHY. Omega-3 fatty acids and cardiovascular disease. J Am Coll Cardiol. 2011;58:2047-2067.

In fact, there has been so much research showing the link between EPA/DHA & heart health support that the FDA approved a qualified health claim that "supportive but not conclusive research shows that consumption of EPA & DHA omega-3 fatty acids may reduce the risk of coronary heart disease."3

3 U.S. Food and Drug Administration. Summary of Qualified Health Claims Subject to Enforcement Discretion: Omega-3 Fatty Acids & Coronary Heart Disease. Accessed 15 March 2017. https://www.fda.gov/Food/LabelingNutrition/ucm0739…
† These statements have not been evaluated by the Food and Drug Administration. These products are not intended to diagnose, treat, cure or prevent any disease.Please read and follow the Pharmavite LLC Guidance for Independent Influencers and Other Product Reviewers ("Guidelines") in its entirety.