Fall Activities for Dogs 2017
This shop has been compensated by Collective Bias, Inc. and its advertiser. All opinions are mine alone. #ProtectFromPetMess #SeasonalSolutions #CollectiveBias
Hello & Happy Monday!!
As a full time student for over 6 years, I was elated to finally get a puppy! Having a job that enables me to stay at home and spend the entire day with my dog Burt, I am forever grateful. Today I can't imagine leaving my fur baby at home, because he makes my day that much better!
Needless to say, he is SO spoiled lol
As a new dog mom and fall almost in full swing, I thought I would compile a "Day in the Life of Burt", followed by tips, tricks and recommendations for fun outdoor activities to do with your pup during my favorite time of the year.
Since we're all about food in this family, we always opt to eat outside. (see picture above)
If there is an outdoor patio, we're eating, and if we're eating, Burt is too lol.
(there are many apps to navigate pet friendly dining options!)
My name is Burt.
His typical day starts with breakfast, a long walk, sleeping while mom works, and then a snack. Since he breaks out into hives or a rash at a moments notice for no apparent reason, I like to make his treats. One of his favorites is dehydrated sweet potato! They are naturally sweet, have no additives, chewy, and keep him busy while mom is cooking up a storm. My favorite part about my job is that of course it's food, food, food all day long. 99% of what I make I get to share it with him, and 99.9% of the time he actually eats it without hesitation. I love that he embraces new foods even more than I do lol.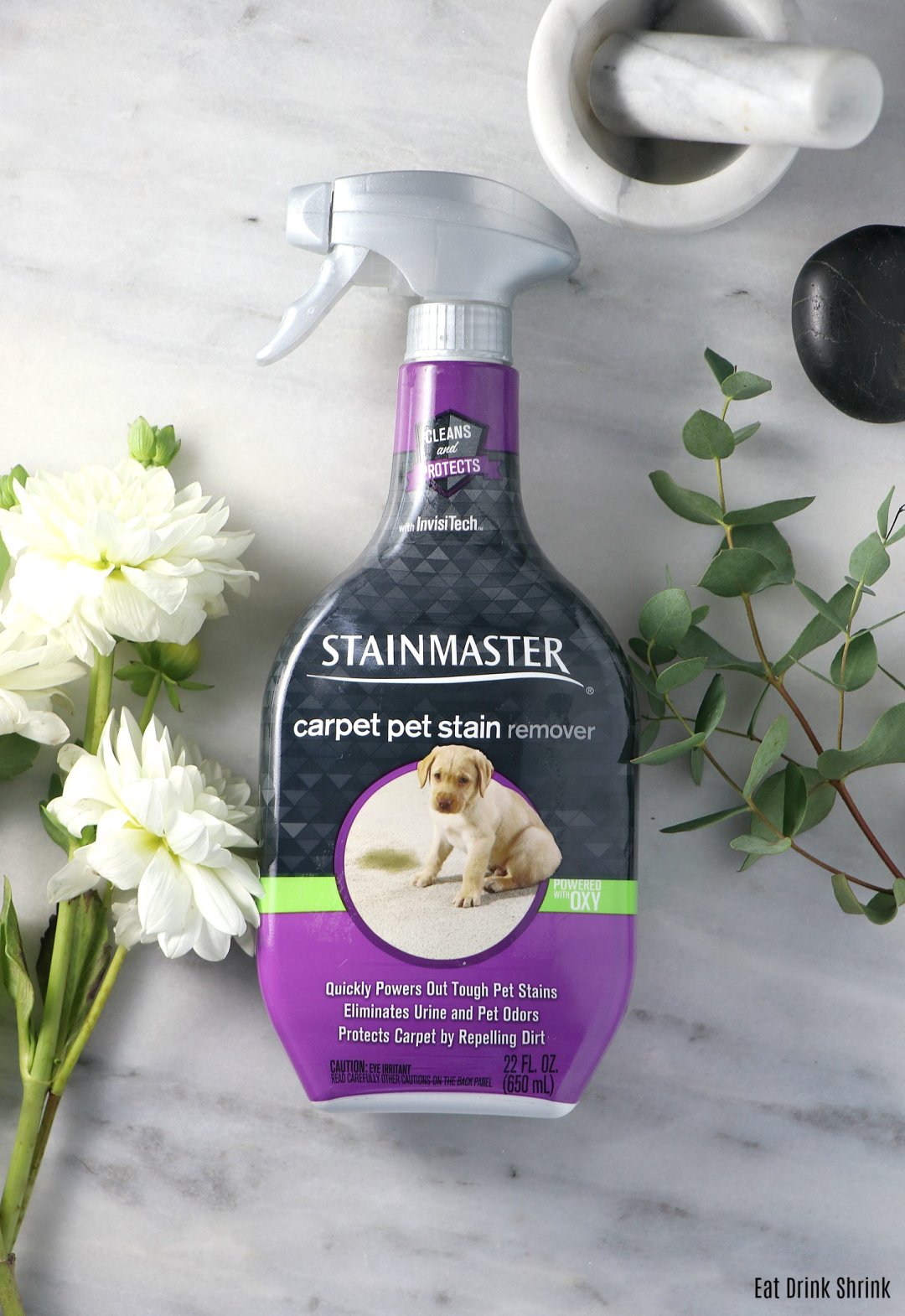 While Burt is only 10 months he was potty trained early at only 5ish months. That's like a homerun with dog training! However, we've run into problems with him dragging in dirt, rain, snow, leaves from outside and tracking food onto the new rug and carpet. My fave foods happened to be bright colored from beets to tomatoes, cabbage and more. That being said, if I ever give some to Burt he instantly runs off to enjoy it on the rug or the one room we have with carpet. Needless to say, we need products that work and the STAINMASTER®™ Carpet Pet Stain Remover from Target is a life saver.
For moments like these, Stainmaster Pet Stain Remover works seamlessly to mitigate germs and has the ability to prevent future stains by leaving an invisible shield to repel dirt to protect the surface.
Stainmaster is Great for common pet stains like urine, vomit, and feces (all the wonderful things) and also everyday stains like coffee, grape juice, jelly, chocolate syrup, ketchup, and soil. It leaves behind an invisible shield to repel dirt to protect against re-soiling and no sticky residue!
Follow Stainmaster on social media:
FALL OUTDOOR ACTIVITIES
APPLE PICKING
If there is one thing I love about the fall, it's the plethora of apples. I know going apple picking or to pumpkin farms has evolved to be somewhat cliche on social media. However, if there is somewhere outdoors that I can bring my dog and it involves food, I'm all about it! Pick apples for recipes and make an experience out of it versus picking some up at the market. Be sure to check rules and regulations before making the trip!
FARMERS MARKET
Since Frenchies can't handle the heat too well, I love going to the local farmer's market in the fall! Although Burt can be a struggle at times when I get in the zone and need to browse, but he loves to tag along as their is always other dogs there. The masses of people always gets him excited and there are sometimes animal products from local vendors making it a win win. Even if all I walk away with is fresh flowers, because nothing else grabs my attention, I love the energy at markets and being able to support local businesses. Be sure to check online as there should be multiple markets over the weekends in your area!
Pumpkin patches are a blast for both kids and pets. Typically they offer other produce or niche items and activities in addition to pumpkins, and you may meet other pups there. Burt actually loves to chew on pumpkin stems, so I think this will be one of his favorites out of all the options! Check with your local pumpkin patch to confirm they are dog friendly!
PICNIC:
If you're in the mood to dine outside and play with your pup, a picnic is a wonderful idea! You can pack everything from dog food, treats, toys (and wine lol) and meet other pet owners to make for a perf afternoon outdoors. I love this option as it's great to dine out on a patio and have someone bring you food, but I love to make my own food and be able to really have Burt be a part of the experience versus him sitting by our table. Highly recommend!
HALLOWEEN DOG PARADE:
In New York City the Halloween Dog Parade in the west village is a BIG DEAL. Pet owners go to great lengths to really immerse themselves in the tradition of dressing up their pets and create some of the most eye catching costumes. Check your local city to see if they are hosting one and dress up your pup to celebrate the holiday, socialize, and meet other dogs!
BEER GARDENS:
Although I'm not a big drinker, I'm a big outdoors person and find any excuse or reason to get outside with Burt when the weather permits. Beer gardens typically are dog friendly and cater to pets by offering fresh bowls of water and even dog treats. There are always lots of other dog owners there so its a great way to relax, socialize, and let your pup make friends.
SIMPLE OUTDOOR ACTIVITIES:
Don't have time to make the trek to any of those options? Don't stress! From throwing the ball outside, to hiking or even just letting them jump in a pile of leaves there are endless options. Just make sure to get outside and enjoy this beautiful weather before it's gone!